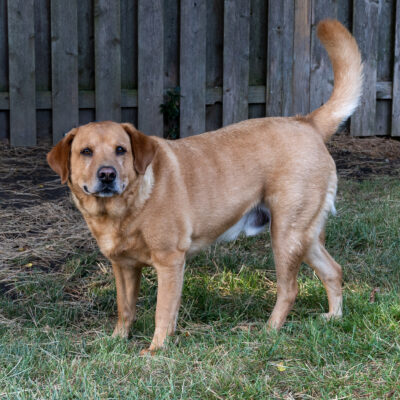 Meet Scout, the powerhouse with a heart as big as his size. This strong and resilient companion requires a walking partner who can match his strength, but don't let his robust exterior fool you—he's also a certified couch potato who enjoys laid-back moments and hanging out.
Scout's journey with us began on a mission to shed some pounds, and with regular walks and veggie snacks, he's transformed into a healthier, happier version of himself. While he's made friends with some dogs, Scout's ideal scenario is being the sole star in a loving home, as his alpha personality shines brightest when he's the center of attention.
Scout's social circle expands to larger breeds who share his enthusiasm for active playtime. Squeaky toys, especially his beloved pink chicken, hold a special place in his heart, and he can't resist the silly sounds they produce.
Despite his imposing size, Scout is a sweet pup with an abundance of love to give. If you're ready to welcome a big-hearted companion into your life, Scout is the perfect match. Consider a meet-and-greet today to discover the joy of having this lovable giant as your loyal couch buddy and walking partner!
Scout is a very strong dog and would require someone who can match his strength on a walk. He loves to be a couch potato and just hang out. He came to us very overweight but has trimmed down with walks and veggie snacks. He does like some dogs but would do best as an only dog. He has an alpha personality so we suggest no children.
Interested in adopting Scout?
Learn more about how our adoption process works and what to expect when you visit.
Learn more