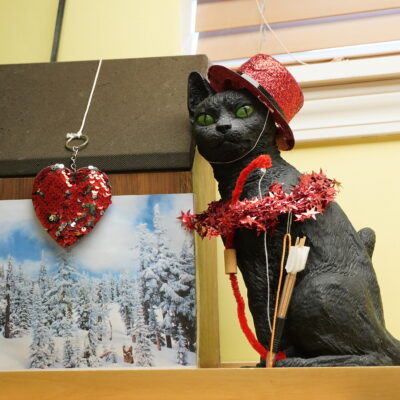 Damien is a very special black male cat with glowing green eyes. He appeared at Buddy one day on his own, and has been here ever since. He is a very unusual cat in that he isn't much into playing, but makes an excellent watch cat. He has never had a problem with any of the cats at the shelter, but is a bit disturbing to some of the volunteers. He may not be very interactive and will usually stay wherever you want him. He makes an excellent watch cat, side bar cat, or even will stay in your lap. He is very low maintenance, requiring only an occasional toy mouse and a new AA battery ever couple of months. Damien is currently protecting the sound system speakers in the main cat area. We can guarantee he will get along well with you and the rest of the family, including any cats and dogs. Come in and meet Damien, but don't be surprised if he plays cat and just ignores you!
Interested in adopting Damien?
Learn more about how our adoption process works and what to expect when you visit.
Learn more