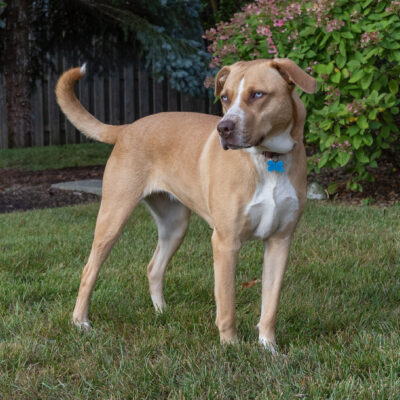 Meet Jazzy, the enchanting Terrier/Husky mix with a gaze as deep and captivating as her gorgeous blue eyes. As one of our cherished long-term residents, Jazzy may start off a bit shy, but it takes no time at all for her warm and loving nature to shine through.
This young and spirited pup is a powerhouse of energy, making her the perfect playmate for other dogs who enjoy an active lifestyle. While Jazzy prefers the company of her furry friends, a home without children would be her ideal haven. To ensure the best fit, she thrives in a home with a 5-foot fenced-in yard, and a pre-adoption home visit is on her wishlist.
Jazzy has become a beloved figure among our volunteers, earning the title of 'trainer pup' for her remarkable ability to bring out the best in other dogs. Despite her initial nervousness around new faces (can you blame her after spending most of her young life in a shelter?), a pocketful of treats is all it takes for Jazzy to open up and show her true, lovable colors.
Once she's warmed up to you, get ready for a front-row seat to the magic of Jazzy's silly and sweet personality. Squeaky toys are her absolute favorite, closely followed by the joy of belly rubs. If you're ready to add a touch of Jazzy magic to your life, schedule a meet-and-greet today and discover the joy of welcoming this sweet soul into your home!
Interested in adopting Jazzy?
Learn more about how our adoption process works and what to expect when you visit.
Learn more