Tour
Get a peek inside our volunteer-run shelter.
Lobby
Potential adopters enter through the lobby, where they check-in at the front desk. Potential cat adopters are then escorted to the main cat room by a cat adoption counselor. Potential dog adopters look through pictures of available dogs while in the lobby, and then are brought to a dog visiting room by a dog adoption counselor.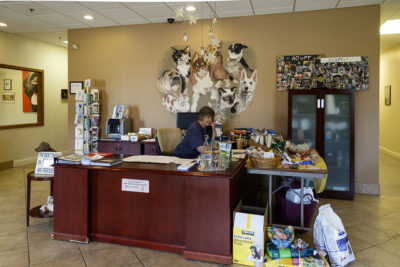 Dog Kennels
Dogs available for adoption are kept in the main kennel area, where each dog has their own space. The dogs are taken for several walks per day, and/or are let out to run and play in the exercise yard. Only volunteers are allowed in the kennel area: Potential dog adopters meet dogs in separate visiting rooms.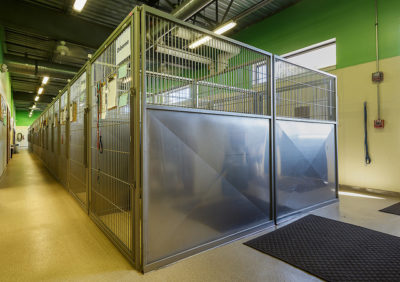 Dog Visiting Rooms
There are several separate dog visiting rooms where potential adopters can meet and get to know individual dogs. Potential adopters are provided with a room; and a dog adoption counselor will bring in dogs one at a time to meet them. The dog visiting rooms are outfitted with chairs, a table, and usually a bin of toys.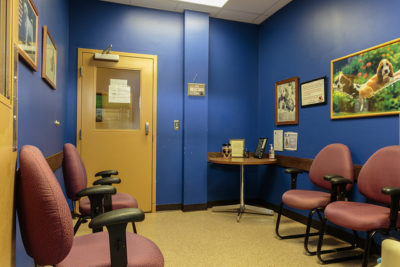 Main Cat Room
The main cat room contains banks of cages; tables and chairs used for filling out adoption paperwork; a kitchen area; and utility sinks used for cleaning. This is the first room that potential cat adopters will enter: The other cat rooms are accessed through this main room. The cats in cages in this room are generally either new to the shelter, or they fall into a special-needs category (such as requiring a special diet, a need to be the only cat in a household, etc.)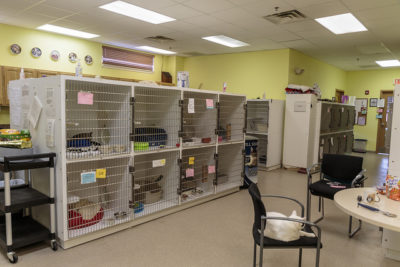 Cat Rooms 1-8
Most cats available for adoption are kept in rooms where they are allowed to roam free. Cat rooms are outfitted with cat trees; scratching posts and pads; plenty of beds; and furniture so that potential adopters can relax in the room and get to know the cats. Usually, one or two rooms are set aside for kittens; and the remaining rooms house adult cats, aged one year and older. Two of the adult cat rooms are visible from the lobby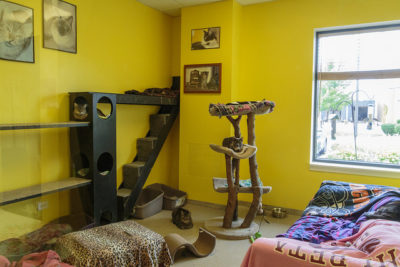 Gift Shop
The gift shop contains donated items that are available for purchase by the public. Most of the items are dog or cat-related; and you can also purchase Buddy Foundation t-shirts and apparel. Note that 100% of gift shop proceeds are used to care for Buddy dogs and cats!