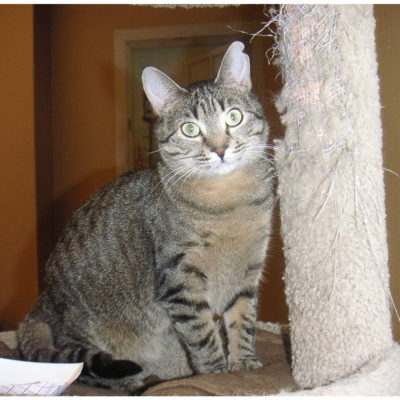 Juno is a small brown female tabby. She and her sister, Bandit, came to Buddy when someone found that their neighbor was putting out poison to try to kill them. Fortunately the lady managed to catch them and bring them to us before they got into the poison. Both of them were a bit afraid of people at first, but after a while in condos in one of our cat rooms they became more friendly. Bandit became very affectionate and has been adopted. Juno remained more shy, but is now starting to really appreciate some attention. Approach her slowly and she will happily accept treats and enjoy being petted; move too quickly and she will shy away. She has started to play with a few toys and occasionally will play with a laser. She really needs a full time friend to bring out the best in her. Maybe you can come in a meet her, and perhaps become her BFF.
Interested in adopting Juno?
Learn more about how our adoption process works and what to expect when you visit.
Learn more